Serbian central bank on Thursday raised its benchmark rate by 25 basis points to 5.25 % to counter rising inflation.
The bank also raised rates to deposit and credit facilities to 4.25% and 6.25% respectively.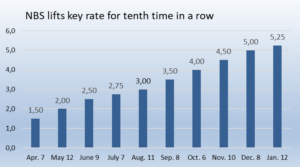 The bank said in a statement it "will be assessing the need for future monetary tightening depending on movement of key monetary and macroeconomic factors at home and aboard as well as on global geopolitical situation in the coming period."
Serbia's December year-on-year inflation stood at 15.1%, statistics bureau announced on Thursday.
Source: Reuters, Momentum