Serbia's central bank decided to raise its key repo rate by 50 basis points to 5% to counter inflationary pressures, it said on Thursday.
The central bank also decided to set the deposit facility rate at 4% and the lending facility rate at 6%, meaning that the entire interest rate corridor was increased by 50 basis points, it said in a statement.
Inflationary pressures on the global and domestic markets proved to be stronger and more persistent than previously expected, National Bank of Serbia (NBS) noted, adding that the trend requires further tightening of monetary policy.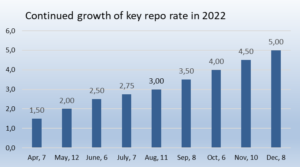 The latest data published by the national statistical office showed that Serbia's consumer prices increased by 15% year-on-year in October, after rising by 14% the month before.
This is the ninth time since April that the NBS has increased its policy rate, for a total of 400 basis points.
Source: SeeNews, Momentum