The Petroleum Industry of Serbia (NIIS) will hold an Investor's Day on Friday, November 4, when it will announce its business results for Q3 and the first nine months.
It is widely expected NIS will once again announce stellar results, but weaker compared to the previous quarter which brought a multi-year high price of crude oil. The average price of Brent in the July-September period was USD 97.5 per barrel, 33% higher compared to the previous year but almost 15% lower quarterly.
Quarterly profits of the Petroleum Industry of Serbia (bn RSD)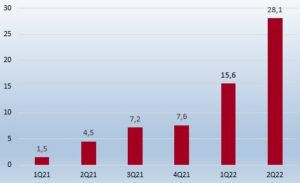 The expected Q3 result should be supported by the increasing demand in the market and the recovery of the tourist season, while regulatory restrictions on prices and exports of petroleum products negatively impact the bottom line. Also, the expected EU sanctions forced the company to build significant crude oil stocks in the first half of the year at high prices.
NIS recorded a net income of RSD 43.7bn in the first half of the year after it posted a Q2 profit of RSD 28.1bn.
Source: NIS, Momentum