The national telecommunications operator, Telekom Srbija, will pay a dividend from last year's profit on December 22, the company announced through the Central Securities Depository (CSD) has announced.
Shareholders will receive a dividend of RSD 8.40 per share or RSD 6.72bn in total, slightly more than half of the unconsolidated profit of RSD 13.14 bn.
The company determined the record day on June 20.
The company has been paying dividends continuously since 2014, except in 2019 when had suspended the payment.
Dividend payments were renewed in the fall of 2020, although the company's indebtedness does not support such decisions.
Overview of Telekom's dividends (RSD per share)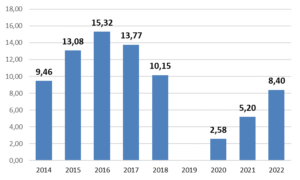 According to the latest available balance sheets, the company remained highly indebted. Net debt on December 31 stood at RSD 223.9bn (around EUR 1.9bn).
Source: CSD, Momentum