The Petroleum Industry of Serbia (NIIS) posted stellar business results in the third quarter, thanks to the favorable business environment, the high crude oil price and the growth of demand on the market, but failed to repeat the record profit from the previous quater.
The company's revenue in the first nine months jumped 90% to RSD 380.8bn, primarily due to a jump in the average price of Brent crude oil by 56%. The key indicator of profitability, EBITDA, jumped almost three times to RSD 104.8bn, and net income reached RSD 69.4bn compared to last year's profit of RSD 13.3bn.
The nine-month bottom line would have been about RSD 8bn higher if there had not been limited fuel prices in accordance with the measures of the government.
Quarterly profits of the Petroleum Industry of Serbia (in bnRSD)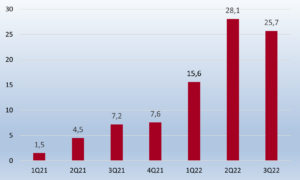 In the second quarter alone, NIS reached a net income at RSD 25.7bn, which is a significantly better result compared to last year, but weaker compared to the record Q2 which brought a profit of RSD 28.1bn.
In addition to high oil prices, the growth of the company's profitability was contributed by the increase in demand on the market, but also by the company's increased market share, especially in retail.
When it comes to operational indicators, oil and gas production was 1% lower compared to the previous year, while refining and sales volume jumped by 14%, and 11%, respectively.
The company's capital investments (CAPEX) remained at a relatively modest level of RSD 12.1bn compared to RSD 13.1bn in the last year, while indebtedness to banks fell 3% to EUR 570m.
Source: NIS, Momentum