The Petroleum Industry of Serbia (NIIS) posted record business results in 2022, thanks to the high crude oil prices, growth in demand, and lower costs due to the supply of cheaper Russian oil.
The company's revenue in 2022 jumped 74% to RSD 513.7bn, primarily due to a 43% jump in the average price of Brent crude oil.
The key indicator of profitability, EBITDA, jumped 1.6x to RSD 136.2bn, while net income reached RSD 92.4bn compared to RSD 21.0bn in the previous year.
In Q4 alone, NIS recorded an EBITDA of RSD 31.4bn and a net income of RSD 22.9bn compared to last year's RSD 7.6bn.
Record quarterly profits of NIS in 2022 (in billion RSD)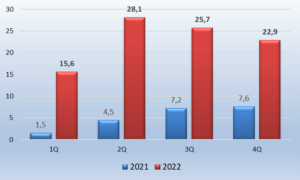 In addition to high crude oil prices, the increase in the market demand supported the profitability growth, as well as the company's increased market share. At the end of the year, NIS held 50% of the retail market (44% at the end of the previous year), while the share in the wholesale market increased from 74 to 83%.
When it comes to operational indicators, oil and gas production was 2% lower compared to the previous year, while refining jumped by 12% to a record level in the company's history. Sales volume increased by 8%, primarily thanks to a 19% growth in retail sales, while wholesale sales jumped 11%.
Source: NIS, Momentum